TIA HERE
and it's January, which means all the shows you love are premiering, or are returning after the big holiday break. If you're wondering what's on, what to watch, or what you might like—this list is for you. Here are ten TV shows that you should already be watching:
10. American Horror Story.
As a huge fan of the first two seasons of this show, I hold the belief that it has gone a bit downhill with the most recent seasons, but viewer numbers suggest the opposite. Either way,
AHS
is one of the most talked about, most blogged about, most freaked out about shows on television, and still remains one of my favorites. Typically on Wednesdays on FX (hence the unofficial fan slogan, "On Wednesdays We Wear Black"), this miniseries offers a completely different horror tale each season, using the same actors as (usually) different characters. Created by Ryan Murphy and Brad Falchuk (think
Glee, Nip/Tuck,
and most recently announced,
Scream Queens
, which sounds like a combo of the humor of
Glee
with the horror theme of
AHS
),
American Horror Story
flip-flops between seasons set in the modern era and those set in the previous century with the backdrop of the United States as the one true constant.
AHS
explores horror in the traditional sense, sometimes campy, sometimes darker, and plays on both the supernatural and the natural fright of our society and world.
You do not need to watch these seasons in any particular order, as they don't follow one another in any way, but I will explain, in the most spoiler-less way possible, how each season offers something different. Season one (Murder House) is all about ghosts, family, babies, and a haunted house. Season two (Asylum) is set in the 60s at a mental institution run by nuns, and plays with the idea of aliens and God. Season three (Coven) focuses on witches, voodoo, immortality, and racism. Season four (Freak Show) follows a circus theme with murderous clowns, but also highlights the struggle of outcasts versus privilege. Feel free to pick which season sounds the most interesting to you, and run with it! This show may be crazy at times, but it descends into madness with style.
WATCH IF YOU LIKE: horror movies, complex storylines, strong female characters, thinly veiled metaphors for modern issues of social inequality.
9. Silicon Valley. This HBO newcomer hits you with a sort of off-color humor, pushed forward at full force by the image of the 21st century nerdbillionaire. Silicon Valley follows a young computer genius trying to sell his (not so genius) app, and getting a surprise turn toward success when it is discovered that his crappy application has something much more valuable to offer hidden within the code. Something about its humor and style and HBO status reminds me a bit of Girls, except the cast is mainly male and they are semi-pathetic computer science geeks with a chance to make it big. The characters, while offering bright moments of success, are young misfits, bumbling around more than they are succeeding, which definitely adds a little sympathy to their condition of being very close to being very rich. The portrayal of the nerdy sides of these characters also seems more true to reality, less based on cliche and more focused on how Silicon Valley startup hopefuls might actually be like in real life. It's a bit quirky and strange, but the modernity of it and the roundness of the characters adds something undeniably fresh to television.

WATCH IF YOU LIKE: computer science, technology and startups, nerd humor that is more honest than anything The Big Bang Theory can come up with.
8. It's Always Sunny in Philadelphia.
They're maybe some of the worst people on earth. But they are also the funniest.
It's Always Sunny
has a cast of jerks, written (and maybe improvisationally acted?) so perfectly that if you ever hear anything you've said uttered from the lips of these characters, you know it's something you should never say again. They are rude, destructive, sometimes racist and sexist and homophobic (in the way people who think they aren't being racist and sexist and homophobic are), but they are so clearly meant to be some of the most terrible people on earth that the show almost becomes a guide for how you should never act,
ever.
Somehow, this FX show, full of scummy characters, is one of the funniest and, strangely, most delightful shows I've ever seen on TV. It's crazy and nonsensical and ironic and so
so
clever. If you're a fan of comedy, who doesn't mind brash humor, this is a must watch. This show is a horrendous masterpiece of comedy.
WATCH IF YOU LIKE: comedies that don't need a laugh track, unique humor that pushes the envelope, twenty layers of improvisation on top of an already funny script, Charlie Day.
7. Pretty Little Liars.
Maybe I'm weak. I don't know. But this ABC Family show has me
hooked
. Plus, considering how harshly I judged this show before watching it, I feel like a proper explanation of what it's about could go a long way. This show, based on a book series by the same name, is like a typical high school drama if that drama included murder, mystery, little elements of horror and the occasional homage to a famous horror movie, and a complicated string of clues that seems to web out in a thousand directions. If you love impeccable makeup and style, but also need an occasional jump scare, then this show is for you. There's just the right amount of cuddly romance and family drama to counteract the creepy, stalking maybe-murderer who seems to know everyone's next move and everyone's secrets. Despite the failed spinoff,
Ravenswood,
and
PLL
's attempts to include it randomly in the plot, the show remains mostly cohesive and heart pounding as each new detail is revealed. The most shocking thing about this show, however, is how many people are watching it, but are too ashamed to admit it anywhere other than social media. I'm not ashamed. I refuse to hide the truth (as I declare my love for it on an online blog). This show is (apparently) the most popular show on the air if you look at social media participation—and for good reason. It's
extremely
entertaining
.
WATCH IF YOU LIKE: high school stories, mysteries that bring up two questions for every one they answer, thrillers with a pinch of horror, complicated romances that skirt dangerous lines.
6. Bob's Burgers.
This Fox show is as funny as it is heartwarming.
Bob's Burgers
does away with the grating comedy of most "cartoons for adults" and embraces a more good-natured sense of humor that could make any viewer fall in love with the quirks of every character and want to pull them all into one, big group hug. In this family-based story, Bob and Linda have three very different children: the mad genius Louise (who every viewer wants to be), the quieter and overly honest Tina (who every viewer actually
is), and Gene (the good-hearted, albeit sometimes gross, wildcard). Despite the stunts their kids pull, Bob and Linda are possibly the best parents on television—understanding, sympathetic, and supportive. Plus they have a ton of their own problems, running a restaurant in a town full of quirky characters. If there were ever a show that I thought displayed a realistic family with a dose of ridiculous, sidesplitting humor, it would be this one. They are truly one lovable cast of characters!
WATCH IF YOU LIKE: cartoons, positive family depictions, burgers.
5. Hannibal.
Beautiful, mysterious, and violently brutal, NBC's
Hannibal
is the dark horse (or should I say wendigo?) of television. While popular, its hype seems a bit more low-key, as it certainly draws in a more mature audience to handle the disturbing violence, portrayed with flawless lighting, effects, and camera angles.
Hannibal
is the artsy film about a serial killer that sold out to television and yet lost nothing of its impeccable production, cinematographically displayed metaphor, and compelling narrative. If drama and murder in its darkest form are something that interest you,
Hannibal
is exactly the kind of show you've been waiting for. The best part is, if the show just isn't enough for you, there's also the book series that started it all and several movies waiting for you as well. The story of Hannibal Lecter sure is a popular one.
WATCH IF YOU LIKE: Bates Motel, Mads Mikkelsen, Hugh Dancy, murder that's so creative it hits a new bar in the definition of "horrifying," stunning cinematography, beautifully prepared meals, cannibalism.
4. Orphan Black.
Tatiana Maslany is a powerhouse. She plays over half of the characters on the show, and so effectively that you forget it's all her and some computer-operated cameras making the whole thing functional. The show itself revolves around Sarah Manning and her "sisters" (clones!) who she discovers one day when one of them commits suicide right in front of her. There's a complicated fight between scientists and subjects, the military, and more. The mystery gets deeper and deeper with each episode. This BBC America show is refreshing in its ideas and characters, and successfully presents an original sci-fi story with solid effects and a clever, well-constructed plot. So not only is
Orphan Black
fascinating to watch because of the hoops Tatiana jumps through as an actress, but the storyline is also one that will hold your attention from one episode to the next. Sometimes it can be a bit tough to remember all the little details that raise unanswered questions, but if there's anything sure about this show, it's that they are questions that
will
be answered, probably in a shocking season finale cliffhanger.
WATCH IF YOU LIKE: sci-fi mixed with mystery mixed with incredible acting mixed with complicated female characters, clones, attractive people.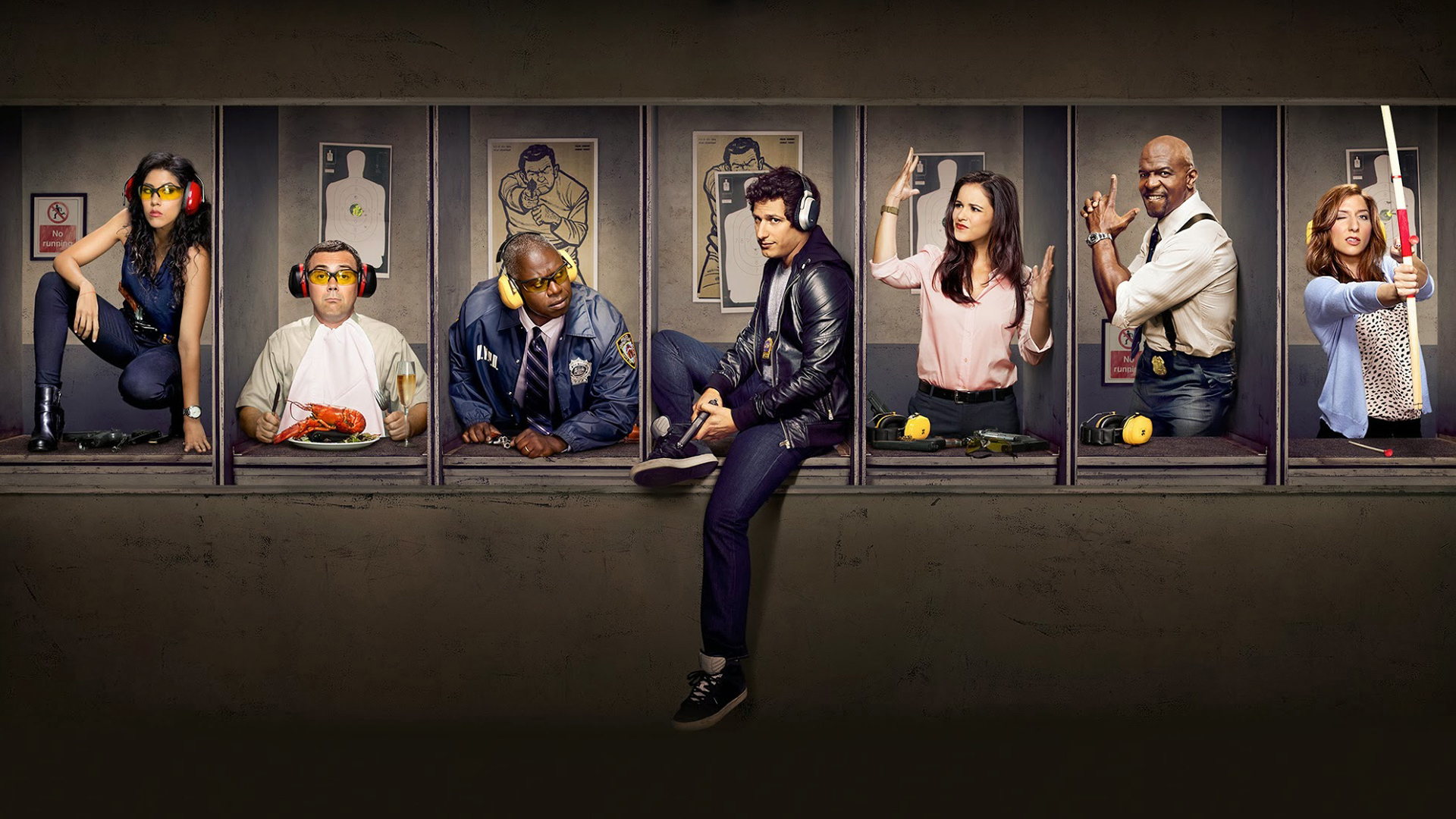 3. Brooklyn Nine-Nine.
In the past, Andy Samberg has rarely played an adorable character that you love and want to protect with all of your heart, but in this show, that's exactly who Jake (his character) is. Like with a lot of shows on this list,
Parks and Recreation
, for example, this is a show with a cast that is completely lovable in different ways. Their funny, family-like dynamic at work makes them fun to watch and easy to root for. This is a show that bashes passionately through all kinds of cliches and makes lighthearted comedy of very different people working together, getting along, and solving relatively petty crimes along the way. With a cutesy will-they-won't-they-who-am-I-kidding-they-totally-will-it's-just-a-matter-of-time romance and characters quirky enough to be cartoons, this a great choice for anyone looking for an easy to watch, easy to love show.
WATCH IF YOU LIKE: cop shows, comedy cop shows, endearing characters who act like children, smashing stereotypes in the face.

2. How To Get Away With Murder.
When new, edgy, and dark shows pop up (especially on ABC), hoping to succeed, they often come off as taking themselves too seriously to the point that they almost become campy and embarrassing. This show, however,
succeeds.
The actors are mostly new, or at least lesser known, but they all slide into their roles easily and shine. Viola Davis is, of course, fantastic as always, although her character goes through quite a lot in just the first episode. Either way, I trust Shonda Rhimes to know what she's doing, as she continues to dominate today's popular TV. Sometimes funny and always realistic, the characters in this show are thrown for a real loop as they move from being several students taking the challenging, but coveted, Criminal Law course taught by Annalise Keating, to covering up what appears to be a crime of their own. With plenty of intrigue, mixed in with the weirdness of watching older Dean Thomas sport an American accent and turn into a muggle, this show is one to put on your list. And who knows? Maybe you'll learn something. Murderer.
WATCH IF YOU LIKE: actors from Harry Potter rocking American accents (well, just one of them), crime shows with a more personal focus, underdog stories, murder.
1. Parks and Recreation.
As the final season of
Parks and Rec
premieres, I am reminded of how much I'm going to miss these characters. (I might suggest skipping the first season, though, which is a short few episodes and came out before the characters were really pinned down.) This is a comedy that makes you do more than laugh.
Parks and Rec
makes me feel like I can achieve my goals, no matter how much adversity I face, as long as I keep persevering. With characters that develop and change, this NBC show is able to transcend all of the sillier laughs it brought me to become something that I'll always hold dear to my heart. If you need a pick-me-up, or a reminder to be positive, or encouragement to go after your dreams, while throwing in funny situations and jokes, this is the show to turn to. If it weren't for Leslie Knope (Amy Poehler), I don't think I would have half the positivity that I have with me every time a new obstacle pops up in my way. This show may at first seem underwhelming, a bit plain with good intentions, but as it builds over the seasons, it's one you will fall in love with, guaranteed.
WATCH IF YOU LIKE: mockumentaries, top notch comedies with some of the best characters on TV, Amy Poehler, positivity and toil that actually leads to success, anything—you should be watching this show no matter what.
If you have yet to watch anything on this list, now is the time to start. I hope you gained something from my recommendations to you (based only on shows that are currently out and running). Expect some more recs soon, listing great shows that have ended already or are yet to come...
Thanks for sticking around and let me know if I forgot any good ones that more people should be hooked on!
Much love,
T.